Page sections

The galleries

Descriptons

My other sites

Miscellaneous

Galleries
Note:
All galleries open in new browser windows!
Here at Tripod

Fotohörnet
At Passagen

Berättelser om bilder

I skog och mark
---
BP Presents

Galleri Flora

Galleri Frost

Galleri Fält

Galleri Skogen

Galleri Viola

Galleri Vitsippa

Galleri Vårblom

Galleri Vägen
At BP Sweden (Telia)

Natur & Foto mag.
To top
My other sites

bruphoto
(Sphosting)

bruphoto
(W-zone)

bruphoto Sweden

Contact (e-mail)
Click below / klicka nedan


Välkommen
Detta är Brunkman Photography - Images of Sweden, en site som visar dig foton av min del av världen. Jag har inte "Naturfotografering" med i titeln, men det är huvudsakligen det som det handlar om här. Just den här siten (jag har fler) är mest på svenska och kom till på hösten 1999. Sedan dess har jag expanderat och idag har jag en egen domän:
www.bruphoto.com
Jag önskar dig varmt välkomen och mycket nöje!

Welcome!
This is Brunkman Photography - Images of Sweden, a site dedicated to show you photos of my part of the world. I don't have "Nature Photography" included in the title, but that is mainly what this is about. This particular site (I have others) is mainly in Swedish and was founded in the autumn of 1999. Since then I have broaden my horizons, so to speak, and I now have my own domain:
www.bruphoto.com
I hereby welcome you to my site. Enjoy your stay!
Lars Brunkman
Site manager & founder of Brunkman Photography
---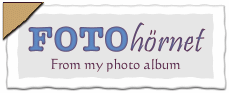 Fotohörnet
Detta galleriär i formen "Best of" och var från början tänkt att successivt utökas med allt fler foton. Så blir det nu inte då jag startat en annan site för bl a det ändamålet (Se nedan)
At first meant to be a "Best of" gallery, but now I have started another site for that purpose (See below)

Berättelser om bilder
(Swedish only)
Då jag tycker minst lika mycket om att skriva som att fotografera har jag här sökt att kombinera dessa två intressen. Det är än så länge bara ett par bilder här men det kommer att bli fler längre fram.
Gallerier
: [
Trädet
|
Vägen
] »
Index
---
---
I skog och mark
(Swedish only)
Följ med ut på en vandring i några av alla de områden jag brukar besöka. Varje besökt område skildras i ord och bild. Kulla Gunnarstorp skildras i så här långt fyra besök, och Kungshult V innefattar även bilder från den östra delen och Sofiero.
»
Index
Växter i Skåne
(Swedish only)
Min egen lilla nät-flora! Här presenteras växter som finns i mitt lilla hörn av landet.
Varje växt presenteras med en kort beskrivning och en eller några bilder. Ibland kan även ett litet fotogalleri förekomma.
»
Index
Natur & Foto magasinet
(Swedish)
Jag startade denna nättidning på försök. Det slog väl ut men hann bara bli fem nummer innan utrymmet tog slut! Du finner alla fem genom att klicka på länken nedan.
Natur & Foto magasinet finns numera på min domän men är ännu under omstrukturering.
»
Index
HELSINGBORG - Staden vid Sundet
(Swedish)
En ny avdelning helt tillägnad min hemstad. Här kan du se bilder från centrum med folkliv, stadens arkitektur, staden by night och en hel del annat. Det finns även bilder från stadsdelarna Ramlösa och Råå.
»
Index
---